Honoring Fathers on Memorial Day
Ray B. Moor died 23 August, 1989 in Astoria Oregon's old Columbia Memorial Hospital building. I still have dreams with him alive and well in his early forties when he could still climb a 90 ft. pole as a telephone lineman for Pacific Northwest Bell.
He joined the Marines at the age of 19 to fight the Japanese in WWII. He served in the 2nd Marine Division, fighting at Tarawa, Saipan, Tinian and as reserve at Okinawa where he endured Kamikaze attacks aboard a troop transport. On Tarawa he saw thousands of men die on an atoll he said, "You could throw a rock across." He came in with the 10th Regiment, (or 10th Marines as regiments are known) as part of a 105mm howitzer crew and provided artillery support.
On Saipan, in the 3rd battalion, still 10th Marines, he fought during some of the heaviest combat in WWII during Lt. General Yoshio Saito's final, desperate bonzai charge. The 10th bore the brunt of the attack, with the 3rd and 4th battalions holding their positions after the attack overran two Army battalions. Because the Japanese were so close, as PFC Robert A. Olsen (pg 230, Follow Me, Story of the Second Marine Division in WWII) said, "The gunners of the pieces were firing at less then 4/10th of a second, time fire. When the fuses could not be set fast enough, they fired ricochet fire, by lowering the muzzles and bouncing the shells off the ground. . . ."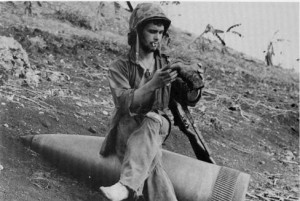 One of my favorite photos as a kid from Follow Me! (Not Dad)
He told many harrowing combat stories to my sister and I, which we listened to as though watching a really great war movie: of .50 caliber machine gun fire literally tearing Japanese soldiers apart, of sitting in a foxhole during an all-night mortar attack with a bloody, chunky rain of his exploded buddies falling on him. That one changed him permanently, as did accidentally shooting a Japanese prisoner in the head with a .45 at no more than arm's length. He kept the photo of that soldier and his wife taken before the war. I still have it.
As he neared death, succumbing to prostate cancer, he retold many of these stories to me, but did not leave out the terror, regret, or overwhelming guilt at having survived. I'm sure the retelling with authenticity provided some relief, a coming to terms with is life. He died peacefully and I suspect relieved it was all finally over. He adored Adrienne, my wife at the time, and our 3 year-old daughter Talus. Adrienne considers him her father, though she knew him only a short time.
My father did his job raising my sister and I splendidly. We knew he loved us, as a fierce warrior we knew he would protect us and we worshiped him. After the divorce, caring for us alone, he would wake us up each morning playing reveillie from a sound effects record and if we weren't out of bed soon enough he'd play the battle sounds at full blast. I'd wait just so he would play the battle sounds.
Oh boy, I sure miss him. As a veteran myself now with my own children going forth into their own lives, I feel his presence in me, providing an important part of my core strength.
I watch new movies and TV series I know he'd love and wish just for an hour or so we could sit there together and watch, then talk. I know he'd love my novels.